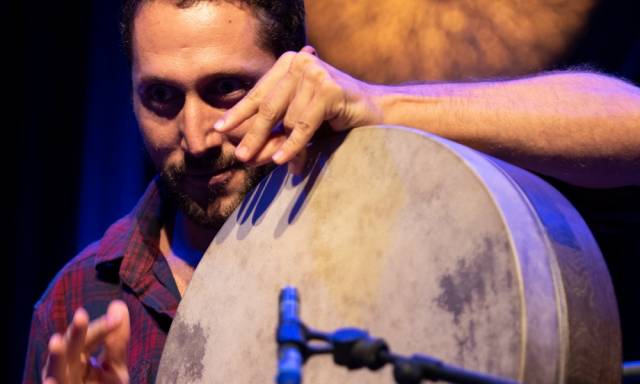 Yshai Afterman presents a Lap style frame drum workshop.
Using specially composed percussion compositions, my goal is to broaden the students'
rhythmic perspective, their technical abilities and their musicality - helping them set a path to
find their own musical voice.
We will try to find the balance between our intellect and our heart - combining the two
dimensions to evolve as musicians..
Additionally, the students will receive detailed technic and coordination exercises with a
structured practice routine
Date 25-26 January 2020.
Place: Poland, Krzewent 55a (Zelazek Drums Workshop)
Cost: 500 pln or 120 euro.
Level: midel
booking - write email with acces and you will get mail with details jacek@bebnyjackazelazka.pl
Accomodation - info soon
bio
A compelling and fresh voice in the world music scene, Israeli percussionist Yshai Afterman draws on Indian, Turkish, Persian and Arabic traditions, blending them with modern innovations into a highly technical, melodic and rhythmic style.
Yshai is constantly touring internationally. He performs with various projects and gives masterclasses in academies, festivals and private spaces around the world. In March 2013 he played an intimate concert with the famed singer-songwriter Idan Raichel at the Israeli Prime Minister's house in Jerusalem for U.S President Barack Obama, U.S Secretary Of State John Kerry and Prime Minister Binyamin Netanyahu. In June 2013 they performed for Israeli President Shimon Peres at the Peres Peace Center in Jaffa.
Drawn to rhythm since childhood, Yshai began the serious study of percussion at age 23 while a student of Dramatic Performance at the prestigious Nissan Nativ Acting Studio in Tel-Aviv, where he studied under masters such as Nissan Nativ, Michael Gurevtich and Mischa Luria. After graduating with honors in 2008, he devoted himself to mastering Middle Eastern hand drums under the guidance of renowned percussionist Zohar Fresco, with whom he studied intensively for 3.5 years. Yshai also studied classical eastern music at Hed College Of Contemporary Music under Persian Tar player Piris Eliyahu, a distinguished musicologist and composer.
He released his debut album "Aline From Here to Nowhere" in the fall of 2017 and his 2nd album "Naomi" was released in the spring of 2019.